Burger King Clowns Around This Halloween, Offering Free Whopper to Patrons Dressed as Clowns
Home » Blog » Halloween's Hottest Trends, Texas Haunt News, Halloween Headlines
October 26, 2017 By Cait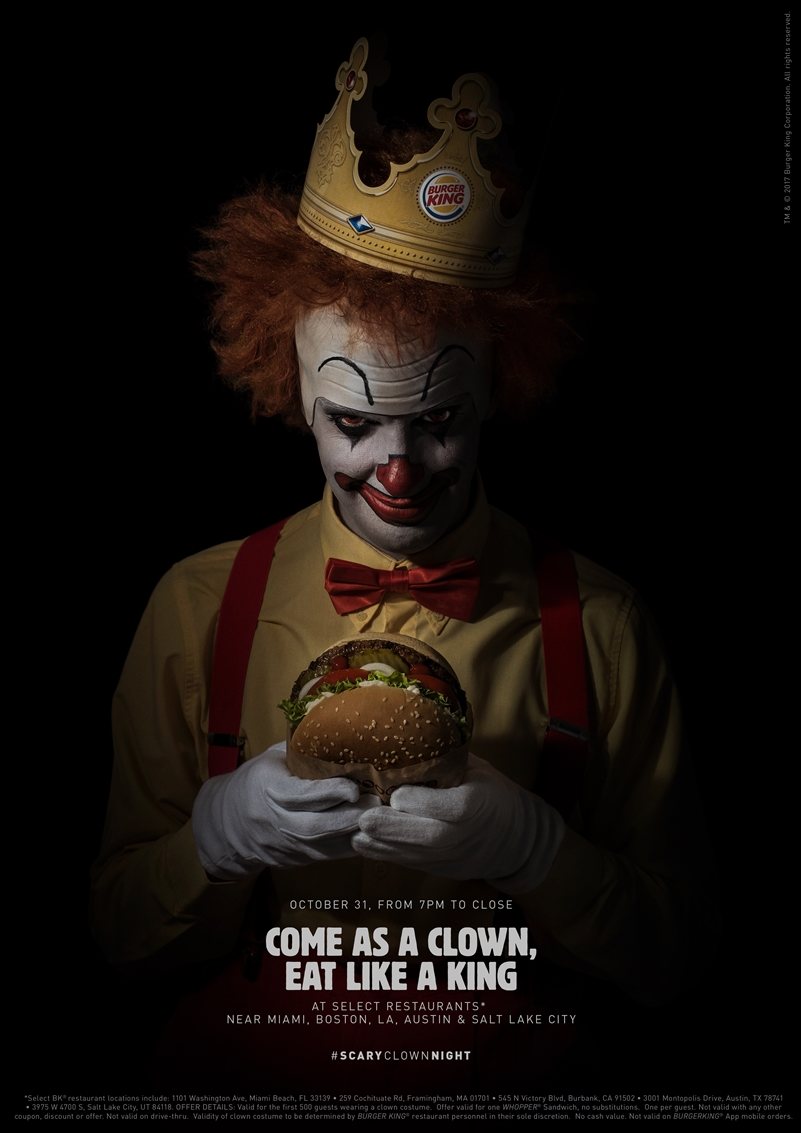 Burger King Isn't Clowning Around When It Comes to Pranking McDonald's This Halloween.
Photo by:
Burger King, via Businesswire.
Burger King is serving up both tricks, and treats this Halloween in the form of their Halloween 2017 annual gag/promotion - at select Burger King's across the US, including one in Austin, TX, the restaurant will be offering free Whoppers to those who come into their eateries dressed up as a clown on Halloween night. While this is obviously a treat for clown-costume-clad patrons, it's yet another funny trick played on their biggest competitor, McDonald's (last Halloween, they "dressed up" an entire store in Queens, NY as a McDonald's restaurant, dubbing it "the scariest Burger King on earth. One thing is clear - Burger King is DEFINITELY committed to playing tricks on McDonald's, and this latest Halloween gag is no joke.
In a commercial, which runs over a minute and a half, a teen on a bicycle (strangely reminiscent style-wise of Stranger Things), leaves his house to head to his local Burger King, but is chased by a posse of clowns, who eerily appear slowly at first, coming to a crescendo of a full on clown-posse as the poor kid enters the dark, unlit Burger King, and is confronted by a clown that looks like a mash up of Pennywise from the latest movie iteration of Stephen King's classic story IT, and you guessed it - Ronald McDonald.
While the short features a variety of different "types" of clowns, and patrons can come in dressed up as
any
clown to get their free Whopper, the intention, and gag, is crystal clear. Their tag line for the promotion is "Come as a Clown, Eat as a King" and it's clear from the video and flyer that they're taking a shot at the fast food clown-king himself, Ronald McDonald.
While this prank is hilarious, it is limited to very few Burger King locations, but luckily, one of those is located right in the heart of Austin, TX. Here's all of the participating locations, who will dish out free Whoppers to the first 500 clowns that visit them on Halloween this year:
3001 Montopolis Drive, Austin, Texas
545 N Victory Blvd, Burbank, California
1101 Washington Ave, Miami Beach, Florida
3975 W 4700 S, Salt Lake City, Utah
259 Cochituate Rd, Framingham, Massachusetts
Personally, we find Burger King's dedication to trolling McDonald's hilarious, and this latest Halloween prank is no exception.
Will You Be Headed to BK Decked Out as a Clown This Halloween?
Share Your Experience in the Comments Below!