SNL's Viral "David S. Pumpkins" Halloween Skit Turns Into Halloween Cartoon Special - Any Questions?
Home » Blog » Halloween's Hottest Trends, Little Ghost & Ghouls Corner , Texas Haunt News, Halloween Headlines
October 30, 2017 By Cait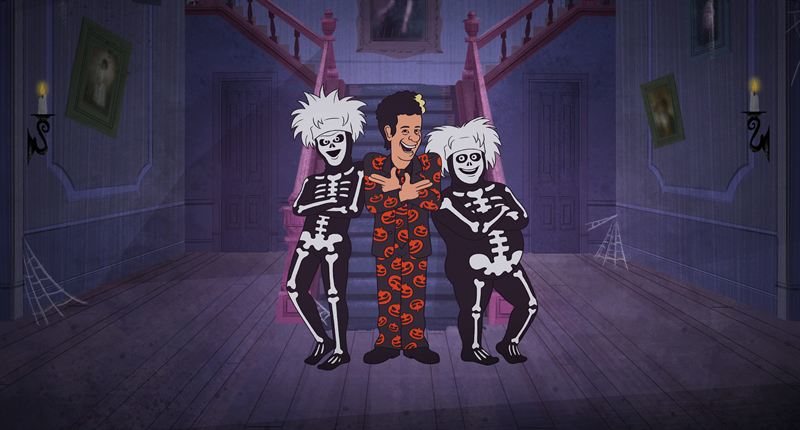 David S. Pumpkins has returned to the small screen for Halloween in animated form. Any questions?
Photo by:
NBC Universal.
Whether or not you're a fan of SNL, you probably have heard of Mr. David S. Pumpkins, the kooky, kinda spooky, completely bizarre Halloween character brought to life by Tom Hanks last Halloween during SNL's 2016 Halloween Special. In the skit itself, two haunt-goers encounter David S. Pumpkins on the "100 Floors of Fright Haunted Elevator", a "Tower of Terror"-type ride, mostly because the character or David S. Pumpkins is completely random character with no ties to anything, really, as he'll tell you he's "his own thing".
Throughout the skit (which you can watch in its entirety below, the haunt goers, played by Kate McKinon and Beck Bennett questions like "who are you", "should we know you", and "is this a thing we're supposed to know about?" - but that's the gag. And the answers to these questions essentially answer nothing, with Mr. Pumpkins ending each clip with "Any questions?" when there are in fact MANY questions that have been completely left unanswered.
No, this is not something anyone knows about because David S. Pumpkins and his two silly dancing skeleton sidekicks (played by Bobby Moynihan and Mikey Day, are random, made up characters that no one in fact, would know or recognize.
It's that ridiculousness that made David S. Pumpkins an overnight, viral sensation - hideous pumpkin suits flew off the shelves at retailers both last year and this year, and Hanks' character became wildly popular almost instantaneously.While of course, there are many questions left unanswered throughout the skit, like "why David S. Pumpkins?", "Why are those skeletons dancing to club music like wild maniacs?", "why did this haunt go all in on David S. Pumpkins, a completely made up character?" - the question of "Who is David S. Pumpkins" is one that everyone now has the answer to - he's a Halloween guy we still know virtually knowing about. This skit was so popular in fact, that Tom Hanks earned an Emmy Nod for hosting that episode of SNL.
Earlier this Fall, NBC announced that they'd be releasing a 30 minute animated special dedicated to this silly, strange character - "The David S. Pumpkins Animated Halloween Special", a star-studded special that made its TV Debut this past Saturday, October 28th. The cartoon was funny, and made about as much sense as the original SNL Skit where David S. Pumpkins first made his appearance, much to the amusement of audiences, and despite the use of his now-catchphrase "Any questions?" throughout, none of the questions viewers had about David S. Pumpkins were answered, the man was made into more of a mystery.
Mr. Pumpkins and his skeleton friends, aptly credited as "Fat Skeleton" (Bobby Moynihan), and "Left Skeleton" (Mikey Day), are summoned after a little girl picks out the ugliest pumpkin in their local pumpkin patch, which causes David and his dancing skeletons to rise out of the ground in (you guessed it), an elevator, to let the children know that he's come to help them celebrate Halloween. When the kids ask some of the same questions posed in the original skit, such as "Is this a thing we're supposed to know about", and "Who are you," the trio breaks into song about David S. Pumpkins origins, which as you might have already guessed, answers absolutely no questions whatsoever, except to reinforce the fact that "David S. Pumpkins is his own thing."
We don't want to spoil this hilarious Halloween Special for you, but if you're a fan of SNL, silliness, and general fun, this is one Halloween Special you won't want to miss out on. Any questions?
Have You Seen The David S. Pumpkins Halloween Special? What Did You Think of the Special, and the Original Skit?
Let Us Know in the Comments Below!