Take on the Undead this Halloween Season at Zombie Hill Haunted Attraction in Gilmer!
Home » Blog » Texas Haunts: An In Depth Look
October 5, 2018 By Haunt News & Press Releases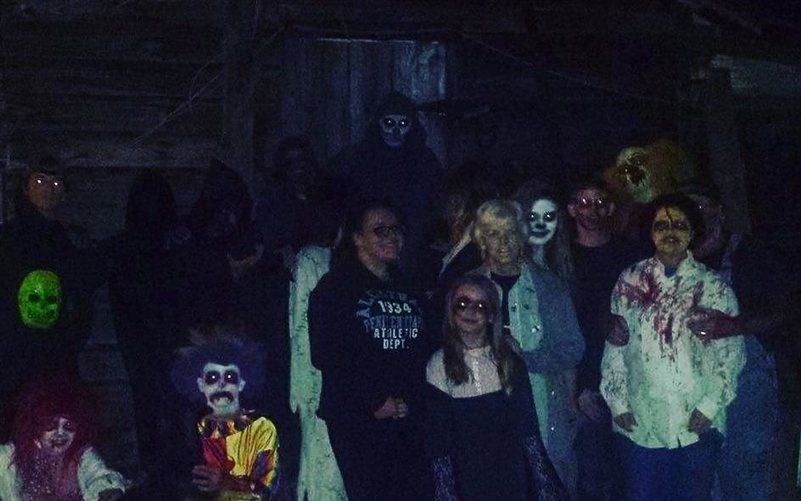 Meat Men
TexasHauntedHouses.com recently sat down with Melinda Helpenstill of Zombie Hill Haunted Attraction, to discuss what's new at the haunt for the 2018 Halloween Season! Located in Gilmer, this attraction is sure to get your heart pounding and your blood flowing! Read below to find out what's in store for this year.
What's new at Zombie Hill Haunted Attraction for 2018? Do you have any new rides, attractions, or special features that Haunt Seekers should know about?
We always have new ways to scare you at Zombie Hill, but our actors are our best feature. They won't touch you, but "you can feel the heat from their bodies."
What are you most excited about for the 2018 Halloween Season?
Everything. We love the feel, smell and excitement of Halloween. Our blood begins to boil around mid-September and we get a little weirder as we go along.
What differentiates Zombie Hill Haunted Attraction from other local haunts in Texas?
I believe we may be the only haunt that has a transformation box. A person goes in and is morphed into a creature before your eyes. It gets a little crazy after that, but I won't spoil the surprise. Our rooms are in your face, our actors are in your face and the drive down the haunted Cherokee Trace is most definitely in your face.
How long has Zombie Hill Haunted Attraction been in business? Can you tell us a bit more about Zombie Hill Haunted Attraction's history?
We have been in business in Gilmer for about 18 years. We're family owned and operated with a group of great volunteer actors. Our guys are here because they love to scare people.
What's your favorite experience since opening Zombie Hill Haunted Attraction?
Oh wow, it could be the story about the folks that ran out and forgot to pick their kid back up. Or the time the foreign exchange student tried to run back to town because he didn't want to stop long enough to unlock his car. Maybe the time the woman ran out of her shoes and didn't want to go back in to the house to find them. She said, "Keep them." 18 years is a long time to pick just one thing.
How long is a typical haunt experience at Zombie Hill Haunted Attraction from start to finish?
It depends on how lost you get.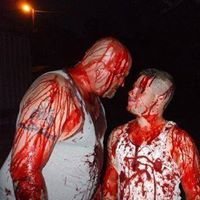 On a scale from 1 to 10, how scary would you say Zombie Hill Haunted Attraction is? Why?
Of course I'm going to say 10 because I love Zombie Hill.
Does Zombie Hill Haunted Attraction's property have any real haunted history? Do you have a spooky encounter you'd like to share?
Yes, we are 4-1/2 miles down Cherokee Trace. It's said that there once was a gruesome accident on Cherokee Trace many decades ago. A woman and her three daughters were run over by a pickup truck after their car broke down on the side of the road. Today, their ghosts still linger where they died, appearing in front of cars on foggy days. And in modern times, "the Trace" has been associated with murders and ghost sightings. We have had customers drive to Zombie Hill and refuse to leave their cars after driving down Cherokee Trace at night. I have personally seen wisps of smoke wrapping around trees when there was no fog at all. Last year some girls reported being touched in a room that no actors were in.
What inspired you to open up a haunted attraction? What's your favorite part of the business?
I love being scared, I love scaring people, I love all things scary, and when I was little (a long, long time ago) my favorite television program was "Twilight Zone"
How has new technology (i.e. animatronics, special props, etc) helped you to enhance Zombie Hill Haunted Attraction?
Not much. We actually love "old school." We build most of our own props. Our haunt is in a metal pole barn with walls that we built ourselves. The floor is dirt (which is great when someone pees), and our walls can be changed quickly. We love being able to change our maze whenever we feel like it.
Can Zombie Hill Haunted Attraction accommodate large groups? How many people can experience Zombie Hill Haunted Attraction together as a group?
We have rooms in our haunt, so we like to keep our groups to about 5 to 6 people per group, but we can run about 5 groups at a time through the house, so we can accommodate large groups.
Does Zombie Hill Haunted Attraction offer any special deals, discounts, or coupons?
Yes, we give a $2.00 discount to groups of 10 or more.
Anything else you'd like to let us know about Zombie Hill Haunted Attraction?
Just that over the years we have tried in every way we can to keep our prices affordable. We had six kids at one time in our family, and we understand that it's difficult to do things with the kids sometimes, so we keep our prices as low as we can, and we offer discounts. Our ticket price is $10.00 because we can do the thing for that price, and our discounted price is $8.00, so we hope that if you want to come out, you'll be able to.