Get a Free Ticket to Freakers' Ball with Purchase of Dark Hour Haunted House Season Pass!
Home » Blog » Texas's Best Weekend Events, Texas's Local Halloween Fun Guide, Texas Haunts: An In Depth Look, Texas Haunt News, Halloween Headlines
October 5, 2015 By Wendy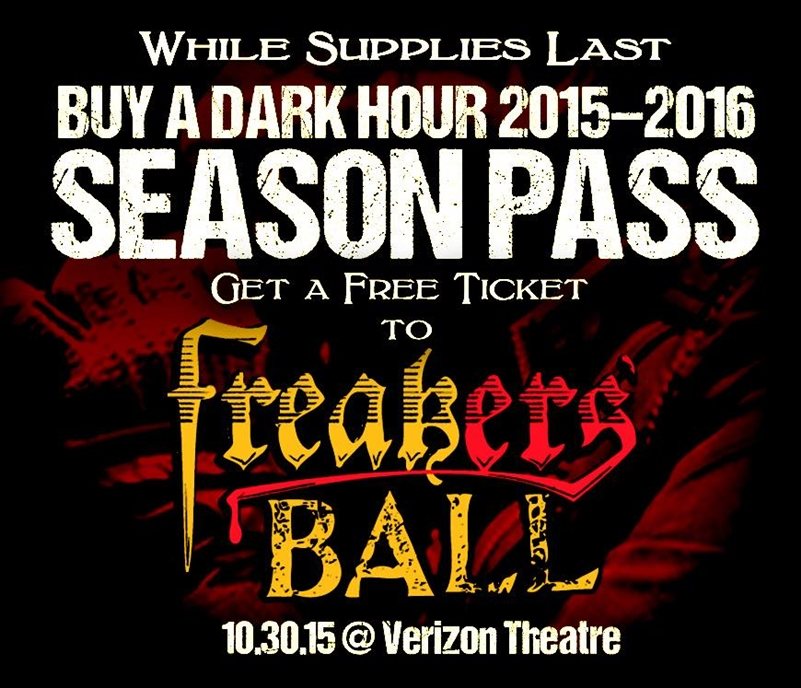 Photo by:
Dark Hour Haunted House
Here's a deal you can scream for, and that'll keep you screaming even past Halloween! When you buy a 2015-2016 season pass to Dark Hour Haunted House, you get a free ticket to Freakers' Ball at Verizon Theatre on October 30th. This is only while supplies last.
The Dark Hour offers 7 different haunted attraction experiences through the 2015-2016 season (until July 2016). For the Halloween there's three themed areas: Dominion of the Dead, Coven Manor, and Voodoo Vengeance. Come December, its show includes Wreck the Halls.
The season pass, a $300 value is going for $149, and that includes your free ticket to the Freakers' Ball where you get to rock out with Marilyn Manson, The Cult, Theory of a Dead Man, and Aranda.