Frito-Lay Variety Packs Shines A Light On Childhood Safety With Limited-Edition Reflective Trick-Or-Treat Bag Filled With Snacks
Home » Blog » Press Releases, Halloween Headlines
October 11, 2019 By Haunt News & Press Releases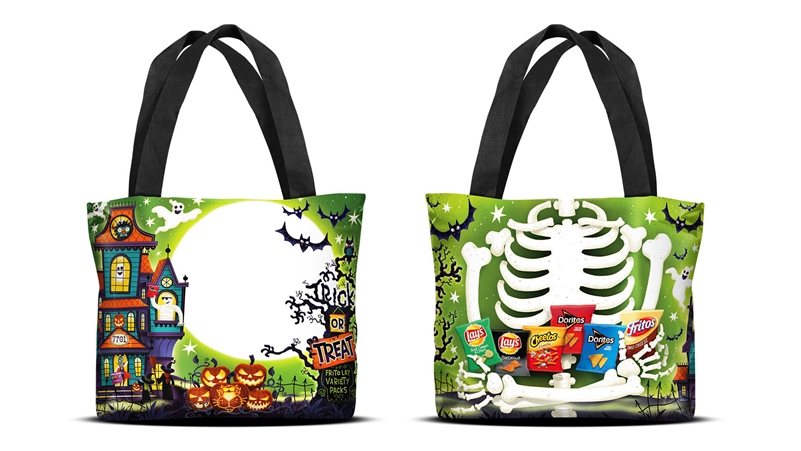 Photo by:
Frito-Lay North America
Plano, TX -- Oct. 10, 2019 -- While Halloween may be one of the most highly anticipated holidays of the year for families, safety hazards often stand in the way of fun when excited children hit the streets after dark. That's why Frito-Lay Variety Packs is partnering with Safe Kids Worldwide to raise awareness around the issue of children's safety with the introduction of its first-ever limited-edition reflective trick-or-treat bag.
Designed to help families "Get Spotted" this Halloween, the reflective bag helps to increase a child's visibility or the likelihood of being seen at night when reflecting a vehicle's headlights or other source of light against the bag. For $19.99, the reflective trick-or-treat bag is filled with an 18-count of Frito-Lay's Flavor Mix Variety Pack and is available to purchase online at Amazon.com and Kroger.com. The bag's kid-friendly size allows trick-or-treaters to easily collect their favorite Halloween treats and is made from sturdy, premium materials so it can be reused by families for years to come.
Families can also visit www.FLVPHalloween.com and look for the Halloween-themed "Get Spotted" display in stores where Frito-Lay Variety Packs are sold to learn how they can redeem free reflective stickers to personalize their costumes or trick-or-treat bags.
"With Frito-Lay Variety Packs in nearly half of family homes nationwide, we are proud to help remind parents and kids alike of the importance of staying safe this Halloween," said Rhasheda Boyd, senior marketing director, Frito-Lay North America. "From the reflective bag and stickers to safety tips from our partners at Safe Kids Worldwide, each aspect of the Frito-Lay Variety Packs 'Get Spotted' program is designed to make safety precautions fun and easy to follow for the entire family."
"We are always striving to bring childhood safety to the forefront of the conversation, especially on Halloween when children face double the pedestrian risks than they do on any other day of the year," said Torine Creppy, President of Safe Kids Worldwide. "We look forward to working with Frito-Lay Variety Packs to raise awareness about important safety topics for everyone come Halloween night – whether you're a child trick-or-treating, a parent getting the kids ready, or simply a neighbor driving after dark."
Along with wearing and carrying reflective gear on Halloween night – such as the Frito-Lay Variety Packs reflective trick-or-treat bag – Safe Kids Worldwide recommends the following guidelines for keeping children safe:
Getting Ready
Use reflective tape or stickers to decorate costumes and bags, and wear light colors, if possible.
Prevent trips and falls by making sure costumes are the right size.
Ditch the masks and choose face paint and makeup so kids can see.
Carry glow sticks or flashlights to help kids see and be seen by drivers.
Join kids under age 12 for trick-or-treating.
On the Road
Slow down and be alert! Kids are excited on Halloween and may dart into the street.
Slowly and carefully enter and exit driveways and alleys.
Eliminate distractions inside your car so you can concentrate on the road.
Turn on headlights early in the day to spot kids from further away.
Remind kids to cross the street at corners or crosswalks.
To learn more about the Frito-Lay Variety Packs support of Safe Kids Worldwide and the brand's "Get Spotted" program, visit www.FLVPHalloween.com.
SOURCE Frito-Lay North America