Police Confirm Bag of Heroin Found in Child's Halloween Candy Bag
Home » Blog » Halloween Headlines
October 29, 2019 By Wendy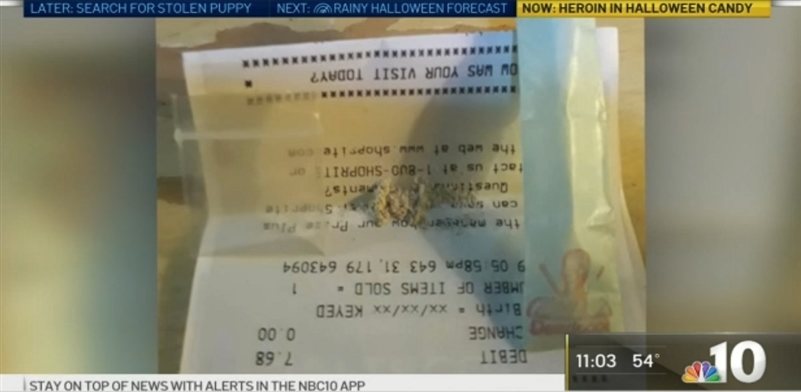 Bag of heroin found in kid's Halloween candy bag
Photo by:
NBC10
A bag of heroin was discovered among Halloween candy their child brought home after a trunk-or-treat event last Friday. The event was at the Shore Family Success Center in South Jersey's Middle Township Rio Grande section.
The parent of two boys, ages 7 and 11, discovered the bag of heroin after the event. Following the event, her kids emptied their bags where she noticed a small plastic bag with a blue paper inside it that held a suspicious substance and a "Deadpool" stamp. It was among the candies her 11-year-old son collected.
The parent reported the finding to police and the Cape May County Prosecutor's Office has confirmed after lab testing that it is heroin.
In an interview with NBC10, the woman said her youngest son loves superheroes so she was familiar with Deadpool. Her son also has autism.
Fortunately for this family, the parent caught sight of the "trick" in her kid's trick-or-treat bag.
While police believe this is an isolated incident, they are reminding parents to look over candy collected for anything unfamiliar or suspicious before allowing kids to enjoy the treats.
See the video reporting of this story from NBC10 here!