Phobia Haunted House of Houston Stirring Up Serious Scares this Halloween Season!
Home » Blog » Texas's Best Weekend Events, Texas Haunts: An In Depth Look, Texas Haunt News
July 20, 2018 By Haunt News & Press Releases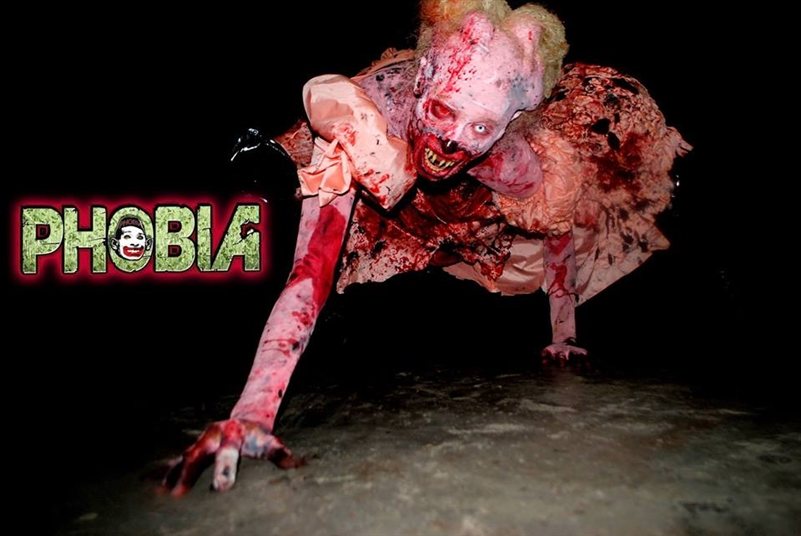 TexasHauntedHouses.com recently sat down with Phylo Darke of Phobia, to discuss what's new at Phobia for the 2018 Halloween Season! Located in Houston, Phobia features a number of heart-pounding haunted attractions, all at one scary good location. Take a peek below to find out what's in store for this year!
What's new at Phobia for 2018? Do you have any new rides, attractions, or special features that Haunt Seekers should know about?
All 8 haunts are open for 2018.
What are you most excited about for the 2018 Halloween Season?
After moving in 2014, Phobia is completely rebuilt!
What differentiates Phobia from other local haunts in Texas?
Eight free standing separate haunts in one screampark.
How long has Phobia been in business? Can you tell us a bit more about Phobia's history?
Operating since 1996, Phobia is huge! Hundreds of actors...
What's your favorite experience since opening Phobia?
Watching large crowds cycle through the eight haunts, with minimal wait times.
How long is a typical haunt experience at Phobia from start to finish?
Varies.
On a scale from 1 to 10, how scary would you say Phobia is? Why?
We don't rate ourselves, sorry. We take pride in our custom animatronics and décor.
Does Phobia's property have any real haunted history? Do you have a spooky encounter you'd like to share?
No. That's not our deal. We are in your face scary startle, not pretend "haunted."
What inspired you to open up a haunted attraction? What's your favorite part of the business?
Watching patrons scream...
How has new technology (i.e. animatronics, special props, etc) helped you to enhance Phobia?
A lot! We have embraced all kinds of technology. Controllers, lasers, L.E.D.s, etc.
Can Phobia accommodate large groups? How many people can experience Phobia together as a group?
More than 3,000 is cumbersome.
Does Phobia offer any special deals, discounts, or coupons?
Discounts and deals on our site. Click here to check them out.
Anything else you'd like to let us know about Phobia?
Open weekends in October!