Screams Halloween Theme Park is Hiring, Have Fun Scaring Others for the 2015 Halloween Season
Home » Blog » Texas's Local Halloween Fun Guide, Texas Haunt News
August 25, 2015 By Wendy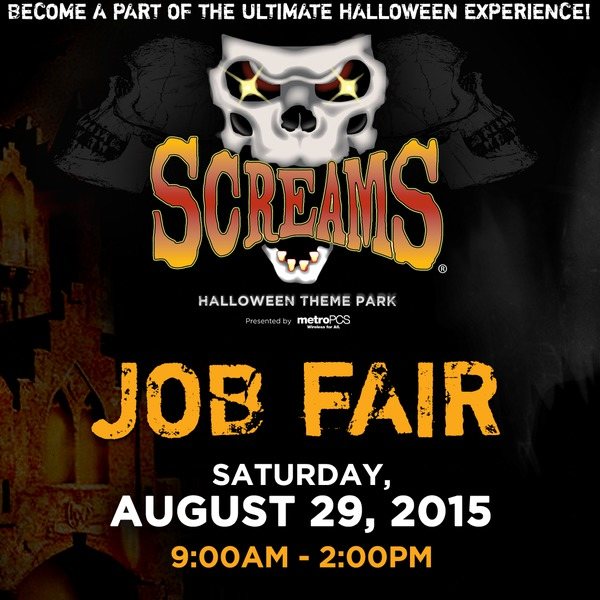 Photo by:
Screams Halloween Theme Park
Getting spooked on Halloween is fun, but it can be even more fun being part of the Halloween experience scaring others. This season you have the opportunity to turn the tables around because Screams Halloween Theme Park in Waxahachie, TX announced a job fair will be held from 9 a.m. to 2 p.m. on Saturday, August 29th.
The theme park has several positions open. The Halloween theme park is primarily looking for those who are friendly, enthusiastic and outgoing with a desire to offer superior guest service, according to the Employment page at Screams. Individuals applying must be at least 16 years of age and should be available to work nights on Fridays and Saturdays from October 2th – October 31st.
Positions open are in the area of:
Haunt Attractions
Ticket & Souvenir Sales
Entrance Gate
Games
Food & Beverage Sales
Cooks & Kitchen Preparation
Pubs
Grounds Maintenance
On top of the chance to scare instead of be scared this Halloween, employees also receive the benefit of flexible scheduling, employee discounts, opportunities to advance, and more!
Applicants may fill out an application online prior to the Job Fair and will be given preferential interview times. All new applicants must attend the job fair, so mark your calendar for August 29th and don't forget to also bring two forms of identification (valid driver's license, ID or passport)!
An orientation will be held on September 19th to discuss specific work hours.
Screams Halloween Theme Park offers its visitors an ultimate Halloween experience through its haunted houses and fright attractions. The Halloween theme park opens starting the month of October on Fridays and Saturdays from 7:30 p.m. to 1:30 a.m.