Find Out What's in Store this Halloween Season at Screams Halloween Theme Park!
Home » Blog » Texas Haunts: An In Depth Look
October 6, 2018 By Haunt News & Press Releases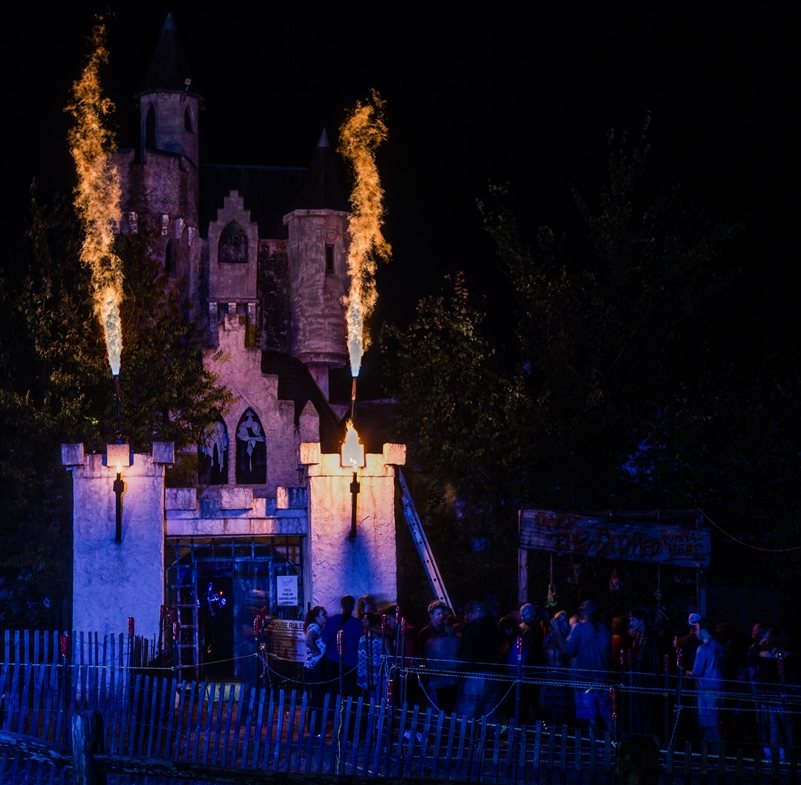 Cursed... The Witches of TerraMythica Castle!
TexasHauntedHouses.com recently sat down with Helaine Thompson of Screams Halloween Theme Park, to discuss what's new at the attraction for the 2018 Halloween Season! Located in Waxahachie, this scream park isn't for the faint of heart! Read below to find out what's in store for this year.
What's new at Screams Halloween Theme Park for 2018? Do you have any new rides, attractions, or special features that Haunt Seekers should know about?
All 5 of the haunted houses have been totally transformed with new themes, design layouts, creative new sets and a all new cast of amazing characters.
What are you most excited about for the 2018 Halloween Season?
To have everyone experience the biggest transformation that Screams has had in many years. Our new creative director has brought a whole new look & feel to Screams for the 2018 season.
What differentiates Screams Halloween Theme Park from other local haunts in Texas?
Screams Halloween Theme Park offers an entire night of Halloween fun, not just a single Haunted House experience. Screams offers 5 haunted houses, each with a different theme and look & feel - all for one low price (one price gets you into all 5 houses). If the lines will allow, you can also go through the houses multiple times and we offer a fast pass to cut your wait time in half. PLUS, Screams has a whole lot more to offer including Scary-Oke, live entertainment, henna tattoos, psychic and palm readings, games of skill, shops, a full food court, a full-service restaurant and bar and 3 pubs!
How long has Screams Halloween Theme Park been in business? Can you tell us a bit more about Screams Halloween Theme Park's history?
2018 marks Screams Halloween Theme Park's 23rd season! Screams is set on the Scarborough Faire site so the Renaissance architecture fits very well into transforming it into a Halloween/Haunt event. This is especially true of our signature attraction - the Castle, which this year has changed to the Cursed... the Witches of TerraMythica Castle - a haunted house themed with witches and the evil spells they cast. Screams full time staff works year round to continually improve and enhance the Haunt experience for our customers.
What's your favorite experience since opening Screams Halloween Theme Park?
We love seeing our customers' reaction to how big and expansive Screams is - especially compared to other haunts. We get the comments over & over again - "I can't believe how big this place is" and "This place is awesome - I never realized how much Screams has to offer". They love the fact that they can come down and have an entire night of fun.
How long is a typical haunt experience at Screams Halloween Theme Park from start to finish?
3-4 hours.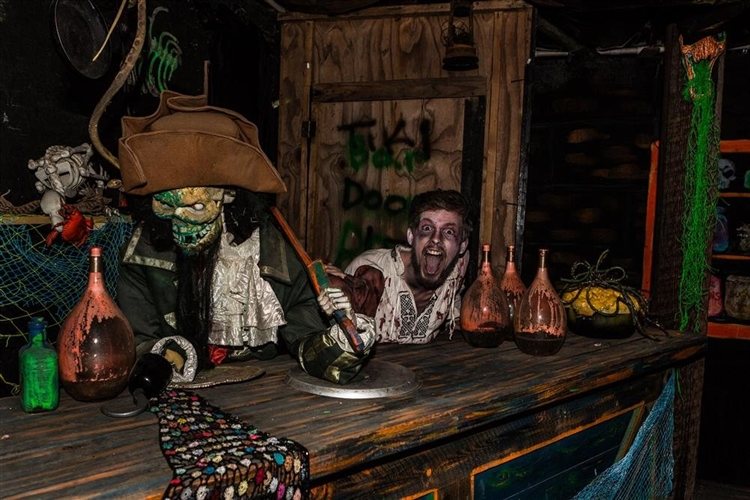 On a scale from 1 to 10, how scary would you say Screams Halloween Theme Park is? Why?
9. Because we have so many different ways to scare. Each person is scared by something different and Screams' haunts and Screams' actors are great at exposing that for every customers!
Does Screams Halloween Theme Park's property have any real haunted history? Do you have a spooky encounter you'd like to share?
No.
What inspired you to open up a haunted attraction? What's your favorite part of the business?
The Scarborough Fair site had the perfect setting to be a Haunted attraction and created a great alter-ego for our Spring Renaissance event. Our favorite part of the business is seeing groups of people getting scared and coming back year after year!
How has new technology (i.e. animatronics, special props, etc) helped you to enhance Screams Halloween Theme Park?
It has allowed us to be more creative in how we present frights to our customers.
Can Screams Halloween Theme Park accommodate large groups? How many people can experience Screams Halloween Theme Park together as a group?
Absolutely! Screams is set on 15 acres and has something that everyone in a large group will enjoy (and get scared from). We can accommodate groups as large as 100+
Does Screams Halloween Theme Park offer any special deals, discounts, or coupons?
Yes, Screams offers a number of discount programs: on-line advance discount tickets at ScreamsPark.com, an on-going Military discount at the events ticket office, discount coupons at North Texas MetroPCS stores and at Waxahachie Nissan.
Anything else you'd like to let us know about Screams Halloween Theme Park?
Screams is in Waxahachie - part of the Dallas/Fort Worth Metroplex and just 30 minutes south of Downtown Dallas. We have a large site that is primarily outside (with the exception of when you go into the haunted houses), so be prepared to walk a lot and dress appropriately. We are one of the few venues that offers food & drink including a great selection of Craft Beers and other adult beverages (for those over 21), shops, games, and other activities to provide a whole night of Halloween fun.