Strangling Brothers Brings Fear To Trader Village
Home » Blog » Texas's Local Halloween Fun Guide, Texas Haunts: An In Depth Look, Press Releases, Texas Haunt News, Halloween Headlines
September 14, 2015 By Haunt News & Press Releases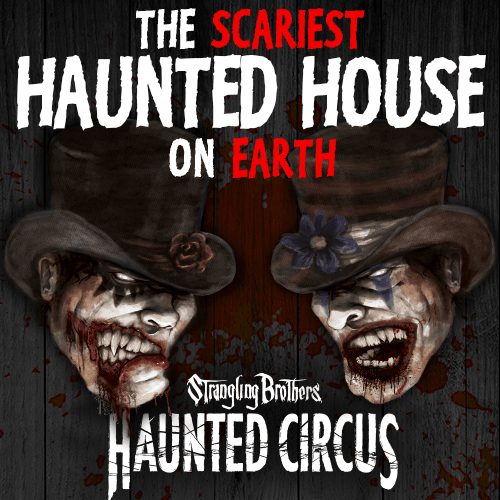 Grand Prairie, TX - September 14th, 2015 - Strangling Brothers Haunted Circus, the Scariest Haunted House on Earth, will open in Trader Village in Grand Prairie on September 18, bringing a haunted experience designed to take fear and terror to a whole new level.

Located at 2602 Mayfield Road, just off state highway 360 and next to the Grand Prairie Airport, the haunt is the scariest and creepiest attraction in the DFW market.

Strangling Brothers patrons will walk through an incredible haunted house made from 25 freakishly tricked out semi-trailers. The haunted scenes inside and outside are arranged in a maze filled with cutting-edge animatronics, innovative lighting and mind-blowing special effects. During the hour-long walk-through, guests come face to face with freaks and misfits, making this the scariest haunted house on earth.

This new dimension in Halloween fun and fear begins with a unique experience of animated clowns, Zombie dancers and a host of other freaks waiting to introduce fans to the Strangling Brothers Experience! This skillfully themed haunted house provides a very unique and surprising level of intensity, igniting a new type of fear energy some have called the "extreme in scream".

"You might pee your pants from fright, but you will be laughing when you are done," said Bob Tillotson, co-owner of Strangling Brothers Haunted Circus. "If we have scared them silly, and they are smiling at the end, we have done our job. Less gore, and more real experience in fright is the key to this haunted house."

The Haunted House is based on the tale of a mysterious traveling circus led by The Strangling Brothers, who have spent a lifetime recruiting freaks and outcasts for their horror show.

For dates, times and advance purchase ticket prices, visit www.stranglingbros.com.