Dark Hour Haunted House Presents: Saint Patrick's SLAY Weekend this March
Home » Blog » Texas's Best Weekend Events, TexasHauntedHouses.com News and Updates, Texas Haunt News
February 19, 2019 By Chelsea T.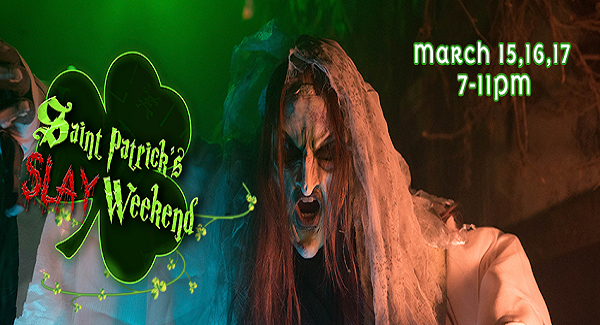 Photo by:
Dark Hour Haunted House via Facebook
Dark Hour Haunted House of Plano is giving thrill seekers a St. Patrick's Day holiday they won't be able to forget, no matter how hard they try! The haunted attraction delivers tons of terror during the Halloween Season, and this March they'll be opening their doors from March 15th to the 17th to celebrate the Irish holiday with some chills and thrills during their "Saint Patrick's SLAY" event.
The tale tells the story of a witch named Shannon MacKenna who rose to power in the Dark Hour coven, and she has called upon the Leprechaun and the Fomorian giants, the trolls, faeries and goblins. MacKenna has demanded that they go out and hunt men, using them in rituals as she makes a mockery of the St. Patrick's Day holiday.
The greedy witch has gone too far, and now the trolls, goblins and other creatures have decided to take back what is theirs… plus more! Visitors will find themselves in the crossfire of the witches who are scrambling for power and dominance over the creatures. Do you have what it takes to brave them this St. Patrick's Day?
Click here for more details & to purchase your tickets today!