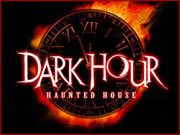 701 Taylor Drive
Plano, TX
Details
Average Review

Scare Factor

Scary

Appropriate For

-

Organization Type

Commercial / For Profit

Listing Categories

More Info

Indoor Event(s), Touching Not Allowed, Free Parking
Make your way to the manor through the cemetery where the undead wait around every turn. The witches anticipate your arrival, but do not expect your survival. Escaping the manor house doesn't end your ordeal. You will have to navigate the village and all that encompasses to make it out alive.
The goal of Dark Hour Haunted House is a simple one: produce the highest quality haunt experience available. Utilizing sets worthy of a Broadway production, professional actors, as well as strategic use of technology produces a top notch theatrical experience in fright for Dark Hour visitors. Dark Hour provides over 30,000 sq feet of terror to be explored by willing guests. While the visit begins with a stop at the ticket booth, the real experience begins when you step into the cemetery at Coven Manor.
Email Haunt Owner
All photos and videos within this listing are the property of Dark Hour Haunted House
Horror adventure zone

If you are looking for a value for money haunted experience then you should Walkthrough Dark Hour Haunt, the king of horror adventure!!! Real visuals and skilled actors make this place more prominent. You will genuinely feel scared and have repulsive adventure. It's like nightmare come true and alive magnificently. Shadowy followers will never feel you light and shocking music will shoot all your stress.

| | |
| --- | --- |
| Scare Factor: | |
| Fun Factor: | |
| Haunt Value: | |

Posted November 2017

Email Verified

Too noisy

Carl's playhouse was definitely not worth the money we paid… it was too noise and light effects were dizzying… overall it is expensive for below average scares…

| | |
| --- | --- |
| Scare Factor: | |
| Fun Factor: | |
| Haunt Value: | |

Posted November 2017

Spine chilling experience

I went to Dark Hour with my husband on this year Halloween season. We lucked out and had no line to get our tickets and we had a spine chilling experience inside the house. We had nonstop fun from the time we get there until we left. Clowns and creepy followers were too terrifying. Snow zone was looking so real and tidy. Loved the whole performance.

| | |
| --- | --- |
| Scare Factor: | |
| Fun Factor: | |
| Haunt Value: | |

Posted November 2017

Email Verified

Satisfying experience

Halloween was never so entertaining. Visited the haunt with my GF.. while we waited in the line (a long one it was), all visitors were kept entertained by the casts and it killed any boredom. My favourite character was the Giselle Scuro. Each corner of the haunt house was designed carefully to scare the visitors. It was fun watching those ahead of you jump in terror.. yes, my GF also screamed out loud few times. Overall, it was a satisfying experience.

| | |
| --- | --- |
| Scare Factor: | |
| Fun Factor: | |
| Haunt Value: | |

Posted November 2017

Email Verified

Cheap Scares

Waited in line for 3 hours only to be rushed through all the haunts, the scares were cheap and none of us got a wee bit scary… we got into a hustle with one of the employee while parking the car.

| | |
| --- | --- |
| Scare Factor: | |
| Fun Factor: | |
| Haunt Value: | |

Posted November 2017

Amazingly overwhelming

Carl's play house was amazingly overwhelming… they had a storyline and quite a detailed one and the actors, props and lighting and sound effect are defined and detailed… it was phenomenal… can't wait to come in again.

| | |
| --- | --- |
| Scare Factor: | |
| Fun Factor: | |
| Haunt Value: | |

Posted November 2017

Email Verified

I was pretty startled

I am a tough guy and I don't get scared easily. At least, that is what I thought of myself. But the haunted house proved me wrong.. it was one heck of a scary experience. Scares came at unexpected corners and times and I was pretty startled few times. The theme and story line of the both houses were unique. I even felt that I was walking through multiple haunted houses. I came out with my heart pounding, and my tough guy tag in tatters. Now I am planning to bring my GF along.

| | |
| --- | --- |
| Scare Factor: | |
| Fun Factor: | |
| Haunt Value: | |

Posted November 2017

Wonderful fear factor

An awesome visit it was. I with my 2 friends went to the Dark Hour Haunted House. It resembled one big Hollywood movie set. It had both good actors and modern technology to create the fear factor. The snow, rain, fire, the simulated jeep and other events seen only in theme parks were recreated here with great results. A good time was had by our entire group. Great job!

| | |
| --- | --- |
| Scare Factor: | |
| Fun Factor: | |
| Haunt Value: | |

Posted November 2017

Best in class Halloween experience

It is absolutely realistic and fun packed haunted house in Texas. I went there in a big group of 9 people. There were lots of flashing lights and many actors. A zeep was coming closer to us between the snow, fire and rain. This gave magnetic impact of horror to our group. I strongly recommend this place to have best in class Halloween experience.

| | |
| --- | --- |
| Scare Factor: | |
| Fun Factor: | |
| Haunt Value: | |

Posted November 2017

Email Verified

Amazing scary techniques

Wow….amazing scary techniques. The second house was creepier than the first one. One of us even ran at one point.. lol. The ticket rates were OK. My only one suggestion is that make the show a bit longer. Overall, a perfect hang out with friends and well worth money and time spent!! I will recommend this haunt house to all scare seekers out there.

| | |
| --- | --- |
| Scare Factor: | |
| Fun Factor: | |
| Haunt Value: | |

Posted October 2017

Email Verified

Not as good as 2014

They threw together pieces of the whole year--leprechauns, winter, the coven witch, and cyborg--no real cohesive theme and not nearly as good as the 2014 Coven show. VIP downgraded--don't waste your money on this so called extra. The behind the scenes extra is a video to promote crew unity instead of showing the intricacy of the set, which is what it was in 2014. Yes, you get two trips through the house, an opportunity to shoot the air cannon and shake the boo-box bars, cheap snacks, and supposedly a fast pass into the second C-level haunt (we had to wait on regulars before we were admitted)--but given the short lines and average effects, it's just not worth the money. Plus, no more free t-shirt with VIP--only a cheap water bottle and $5 off a T. Skip for a better attraction. Sad to say, they're more about maximizing profit now than building an A-level haunt.

| | |
| --- | --- |
| Scare Factor: | |
| Fun Factor: | |
| Haunt Value: | |

Posted October 2017

Top Notch Halloween Attraction

I want to take the time to comment on one of the best if not the best places I have gone to for a Halloween Haunted House or event. My buddies and I went this weekend and had the VIP package, I would strongly recommend getting this. You get to go through twice, and going through twice is well worth it just to see the stuff you miss . You get a T-Shirt which you get to pick , bumper sticker and magnet and get to watch a awesome video on the making of the event and another great surprise as well. Really get to see all the time and energy that goes into this place and it shows. All of the people at Dark Hour are top notch. The Haunted walk through is very detailed oriented, great sets, actors and special affects and tricks to surprise you and keep you on your toes. I thought I had see everything and they got me to jump many times. The workers care and are very motivated to make your experience special. The walkthrough itself is about twenty five minutes, and we loved every minute, every turn gave us a cool new experience and they sparred no expense to put together a experience that will last a long time. I strongly recommend that if you get a chance you should go. I live in the North East and would travel back to Texas just to go again. I compare the quality of the set design and make up to Universal Studios Orlando, top notch, however this experience was so much better, they don't make everyone go all at once, instead of waiting hours plus to get into a house at Universal that lasts four minutes if your lucky . You get twenty five minutes of straight fun and scares and in a small group at Dark Hour. I enjoyed two straight hours going through both haunts and the VIP tour, the people and actors are wonderful and once again the sets are top notch. They know how to treat you as the customer, they give top notch customer service, top notch scares and loads of Halloween fun and a gorgeous Halloween Houseenvironment that will appeal to all ages.

| | |
| --- | --- |
| Scare Factor: | |
| Fun Factor: | |
| Haunt Value: | |

Posted October 2015

4 out of 4 found this review helpful

Loved It

Went on Friday night, October 2nd, about 8 pm... Waited in line about an hour... On stage performances were entertaining and helped pass the time... The walk through the house took about 25 minutes... Great sets, costumes, acting and Lots of Scares!!! Well worth the money and wait!!! Loved It ??

| | |
| --- | --- |
| Scare Factor: | |
| Fun Factor: | |
| Haunt Value: | |

Posted October 2015

3 out of 3 found this review helpful

2015 Haunt Season

I had a great time in 2014. Lots of jumps & screams. I don't mind the long lines. If you weren't good, then you would have the long lines. The rooms & costumes were excellent. I would like to see something new in October 2015. Something different than most haunted houses. It seems like all big haunts have the same scares. Is there a giant haunted house Walmart where you guys buy all the same themed stuff? Why don't you go old school this year... Change it up & get creative like you did when you first began. Think out of the box and give us a unique show:)

Posted April 2015

1 out of 3 found this review helpful

High Tech with professional Actors

Even when busy, Que line moves quickly, and indoors. Great Stage show with dancers, lots of surprises and startle scares, rooms detailed to the max. Roaming Actors to keep the fun going inside and outside.

Posted November 2014

2 out of 2 found this review helpful

1st Visit

1st time to try this haunted house and the price was great and I definitely got a scare from it! Was great to leave with a hurting stomach from quite a bit of screams!

Posted October 2014

2 out of 2 found this review helpful
All information on this page was submitted to Texas Haunted Houses and was believed to be accurate at the time it was posted. Please report any inaccuracies
here
.