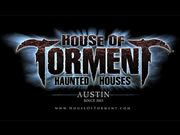 2632 Ridgepoint Drive
Austin, TX
Details
Average Review

Scare Factor

Very Scary

Appropriate For

Children 12 and over

Organization Type

Commercial / For Profit

Listing Categories

More Info

Wheelchair Accessible, Outdoor Event(s), Indoor Event(s), Touching Not Allowed, Free Parking
Scary should always be this fun at Austin's premiere haunted attraction, House of Torment! Famed for it's over-the-top production value and creativity, House of Torment Austin has been recognized by local, regional and national media outlets as one of the best haunted houses in the country. ABC News calls it "A World Class Scare."
Attractions:
Torment Tavern
13th Floor patrons 21+ can enjoy an on-site bar for more boos at Torment Tavern!
Mini Escape Games
Mini Escape Games are a fully interactive and immersive experience unlike anything you have ever done before! Race the clock: Your group enters a room and has only 5 minutes to use clues and riddles hidden throughout the room that provide the tools necessary to meet the objective. As the clock ticks down and the pressure mounts…can you stay calm, can you escape?
Blackthorne Penitentiary
No one was safe once the PL4-GU3 virus found its way to The Blackthorne District. The incurable virus rampaged through Southern Mercy Hospital & The Blackthorne Asylum. Very few survived and turned to barricading themselves inside in hopes of survival. But sometimes what lurks behind bars in the darkness, is far worse than what walks in the streets. Remnants of a failed system forgot the people it incarcerated. Some have been locked up for years, and those in solitary confinement have not seen the light of day in who knows how long. We can only hope the virus has yet to pierce these walls...
Darkest Dreams
Transcend into a dream world of terror that would scare even the bravest of souls. A demonic entity pulls you into her nightmare where she gathers all creatures of horror. You can run, but you can't hide from Nachtmah's deadly grip. Attempt to escape her reality or fall prey to the demented creatures she unleashes on those who enter her world. You are getting sleepy…
Trick or Treat
Legend has it there was once three trick or treaters who entered the old Graveside Manor, uninvited. They wandered around the long corridors, trying to prove it wasn't really haunted. One of the trick or treaters came across an old cassette player. As he picked it up, the second trick or treater startled him, causing the cassette player to crash to the ground. An eerie noise began to play, and an unknown dialect came screeching from the machine. The lights flickered, and the room was overcome by an evil presence. This evil spirit possessed the three trick or treaters, and they were never to be seen again. Some say The Countess got them; others say that Mara, the Nun, did. But one thing is for sure, when Halloween draws near, the locals can still hear, "Ding-Dong, Trick or Treat" in the children's voices when passing the old Graveside Manor.
Email Haunt Owner
All photos and videos within this listing are the property of House of Torment Austin
Email Verified

Amazing experience

Amazing experience for such a meager admission fee. Backed by highly skilled actors and special effects, this place scared us a lot. We screamed a lot, my wife never left me till the end. Great show put up by team House of Torment Austin . Highly recommended.

| | |
| --- | --- |
| Scare Factor: | |
| Fun Factor: | |
| Haunt Value: | |

Posted November 2017

Email Verified

Excellent Choice To Freak Out

To be honest, I haven't scared like this in my life. I with my GF went to The House of Torment and we had a great time there. The lines were long.. but few actors roaming outside the house to entertain the visitors waiting in the line killed the boredom. The make-up, set designing and the animatronics were excellent. Clown house had some spooky clowns. Character Mara in The Possession was very frightening. My GF freaked out seeing her. For me, the scariest part of the visit was the Deranged. The maniacal beasts were very scary. The ride through the dark narrow hall ways made me claustrophobic. Jungle room was a different experience altogether. The beer they served outside the house topped up the fun. Prices were reasonable. Can't wait till next year.

| | |
| --- | --- |
| Scare Factor: | |
| Fun Factor: | |
| Haunt Value: | |

Posted November 2017

Will not recommend

Empty rooms… empty pathways…this is House of Torment… actors who were present could be rarely seen as it was really dark… only strobe lights helped us to identify others… we went smashing our faces over the wall… and fumbling to reach out… the actors get really close to scare you which was very lame… will not recommend this to anyone.

| | |
| --- | --- |
| Scare Factor: | |
| Fun Factor: | |
| Haunt Value: | |

Posted November 2017

Had tremendous fun

I went to House of Torment Austin with my husband to celebrate our two years of togetherness. We had tremendous fun here. The Possession Graveyard was so well designed and shadowy creatures were keeping us busy. Then we walkthrough BlackThrone District, having dark narrow wooden paths and scary props all around. Actors were so skilled and dressed as live ghosts. Indoor walkthrough also had so many attraction… This Halloween experience is enduring illustrious for both of us.

| | |
| --- | --- |
| Scare Factor: | |
| Fun Factor: | |
| Haunt Value: | |

Posted November 2017

Email Verified

Horror and fun everywhere

House of Torment Austin is a star rated haunted house in Texas. Me and my family received VIP passes to the place by one of my cousin… this was a decisive scary fun. Graveside Manor: The Possession, was the best haunted graveyard I have ever visited. Monsters were attacking here and there and made us feel too scary. Spread in huge area the place has multiple themes including the Frenzy Dark Carnival. We enjoyed carnival and dance acts in loud music. It's amazing place to be!!! Horror and fun everywhere..

| | |
| --- | --- |
| Scare Factor: | |
| Fun Factor: | |
| Haunt Value: | |

Posted November 2017

Scares were basic and predictable

We had a tough time finding parking space… spent 30 minutes driving around to park our car… standing in line without any entertainment was pretty boring to make matters worse they had lines for each house… there were three houses… the scares were very basic and predictable… there were fewer actors and they did is bad job in scaring us.

| | |
| --- | --- |
| Scare Factor: | |
| Fun Factor: | |
| Haunt Value: | |

Posted November 2017

Not coming back

No parking… no refunds… it wasn't worth the long drive… and no scares as well… all of us were Halloween fanatics… but got annoyed at the end of it.. there was nothing to get frightened at all. Barely few actors doing the routine lame things and it was badly timed as we could hear them before they jumped at us… so it was more like a clown act… not coming back.

| | |
| --- | --- |
| Scare Factor: | |
| Fun Factor: | |
| Haunt Value: | |

Posted October 2017

Just incredible

If you are looking for vicious adventure… that to histrionic and live… House of Torment Austin is just incredible. This is the only haunted house I have been twice as it adds new attractions every now and then to have attractive scary fun. Spread in huge area, bright themes, stylish actors and props redefine this every time. I had so much fun at thrilling Black throne district, popularly known as the Deranged.

| | |
| --- | --- |
| Scare Factor: | |
| Fun Factor: | |
| Haunt Value: | |

Posted October 2017

Freak you out

It was my kid's pick – to visit House of Torment Austin this year. The mechanics, staging and props were tactically arranged.. compared to last time, they had introduced a lot of new animatronics too… The house design was also pretty detailed. The makeup and costumes of some of the actors could freak you out.. my eldest son who is usually hard to scare screamed in different corners of the house. I will recommend this haunt.

| | |
| --- | --- |
| Scare Factor: | |
| Fun Factor: | |
| Haunt Value: | |

Posted October 2017

Impressed

Torment of Austin was different. In the terms of sets, props and visuals, the house beats all the other haunted houses we have been to in the last year. We visited the three houses in one hour. My favourite house was the "Frenzy Dark Carnival". I was very impressed by the facilities arranged there for the customers. Staff was polite and cooperative. Ticket is cheap. Kids also will find this haunt enjoyable.

| | |
| --- | --- |
| Scare Factor: | |
| Fun Factor: | |
| Haunt Value: | |

Posted October 2017

Very spooky

This was our third visit to House of Torment Austin. Each time, they had something new to scare you. In fact, the haunted house has changed a lot … My favourite part was the icon actors. The music played there was loud and enjoyable. The actors there scared us a lot. The scenes, costuming and make ups were amazing to say the least… the one that terrified us the most was the Frenzy Dark Carnival. The scenes there were very spooky. The De Ranged was also quite frightening. Overall, a well-designed haunted house with some bone-chilling scares. Scare lovers should check this one out.

| | |
| --- | --- |
| Scare Factor: | |
| Fun Factor: | |
| Haunt Value: | |

Posted October 2017

Predictable

Too expensive to be doing the same thin over and over. Not to mention your in line for hours to go through a house that takes 10 min.

Posted October 2014

4 out of 6 found this review helpful

Just so-so

This particular haunted house is very expensive and even more so if you choose to get the express tickets. Otherwise, you will be waiting in line for hours. The house itself is not that scary and takes about 10 minutes to go through. I have been to much better haunted houses in smaller times for half the price. If you live in the Austin area and have money to blow, then this is not a bad experience. However, I encourage you to find other venues, especially if you are a Halloween fan.

Posted October 2013

4 out of 4 found this review helpful

Pricey

It is expensive, but there are a lot of props, so it is understandable. Lots of flashing lights and loud noises, par for any decent haunted house. I think there was a bit too much of the actors jumping in your face and being loud, which kind of prevented me from really being able to enjoy it and see all of the designs that so much time and money went into setting up. Plus, it may have been just my luck, but for me it seemed like the actors chose the places to jump toward me where there was a possibility for me to injure myself. (ex - right when I was walking by a chair whose leg was awkwardly jutting out for me to bump/trip over, a place where there was a trough and the floor stepped down, a perfect place to twist an ankle or something) This happened several times throughout the first house so I felt like it could have been intentional. The first house is the best, I wish I would have been able to slow down in it because the 2nd and 3rd features (yes, there are 3) were not nearly as good. The second had fewer actors, which was good. They should reverse the order. Although the rules say you can't touch the actors, they get so close to you (sometimes actually touching you) that it makes for a very uncomfortable element, especially if you have personal space issues. Perfect for a "scare" but I am a bit older and would have liked to enjoy the visual stuff more than just getting jumped at for a cheap surprise scare. I mean, you can do that without any costume on even, why waste all of the money on the scenes? And most of the actor costumes/make-up jobs were awesome!!!!

Posted October 2013

6 out of 7 found this review helpful
All information on this page was submitted to Texas Haunted Houses and was believed to be accurate at the time it was posted. Please report any inaccuracies
here
.